I'm feeling kind of "blah." Dying my hair was fun, but I think I need to do something else.
Like I said before, going natural put me into a DIY - Do It Yourself - mentality.
I want to somehow do an animal print design....zebra to be exact....on my nails (hands and feet) but I'm starting to chicken out. I may just have to go and get that done!
I saw a girl at Old Navy with the cutest soft-colored rainbow nails. We started talking about my twist out, youtube, etc.
She said she was good at copying youtube nail designs but not hair and I told her I was the complete opposite.
Anyway, I'm really wanting black+white zebra print nails. I want them sometime in the next 2 weeks so I'll be studying youtube videos all weekend to see if I have the courage to do them myself or run to get them done.
Check out Rihanna's:
A little zebra and tiger....
love her.
Close-up. I love these, minus the 'bling.'
And these:
I love these! This is my goal....minus the pink.
These are cool, except for the two that look like Easter eggs. :-\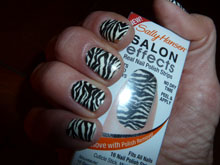 If I chicken out, i'll just try buy these and hope for the best. :-[
I'm afraid mine will look like the 'Easter egg' picture instead of the first picture, my favorite. Gosh! I gotta study this really good because I don't want to chicken out and buy the strips. ::crosses fingers:: I already have the white and dark brown. I'll buy black too and try them both out.
Absolutely
none
of these animal prints!
Shut the front door.
Or these-
Get out of here!
Lol.....WHAT?!?
That was too much! Can you be
lieve
these photos actually came up from google's search engine?!? Wth! They can't be serious. Two words: atrocious and hideous!
Protecting My Tangles
My edges are extremely thin...this sucks. I really don't know when or how that happened. I know I've had post-partum shedding for two years back to back. Yikes! It is noooooo joke! But from what I'm trying to remember, my edges were thin after my first baby and now thin
ner
after my second baby. Ughhhh!
Thin - between my temple and ear. :-(
So this means no more ponytails for me for a while. It also means castor oil massages a couple times a week and henna treatments once a month. Oh and no more gel....well very little. I'm taking it back to protective style twists and twist outs. Although my ends are exposed with twist outs, my edges won't be under any tension and that's what most important for me. I've started doing some of these things but I haven't really been consistent.
Pinned up like the old style french roll.
When you feel "blah," what do you do? Are you doing anything creative to your hair (styling, coloring, etc.) or nails? Do you study youtube to learn new things you can do yourself?